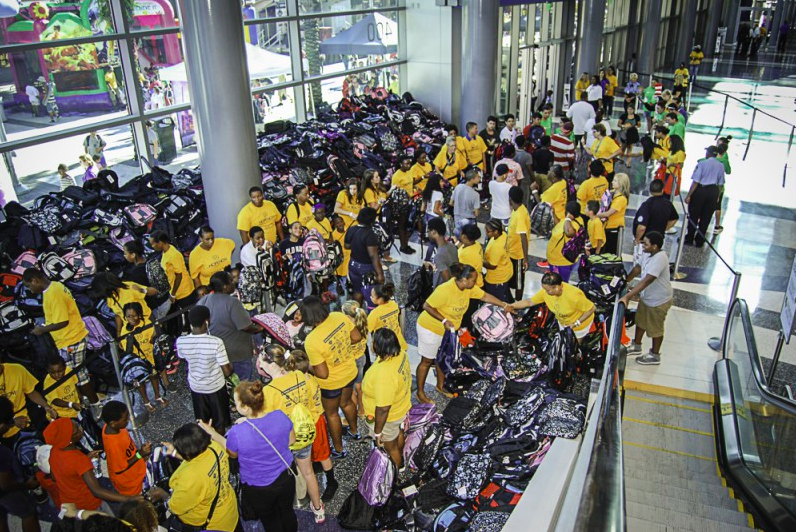 The Back 2 School Bash at a glance
According to statistical data, reports and school officials in Orange, Seminole and Osceola counties, an estimated 11,000 children are considered homeless. They move frequently – living in shelters, motels, and cars … even on the streets. Summer brings added instability to their lives. During these months, most have nowhere to go, nothing constructive to do and no access to resources like free/reduced lunch that helps them while school is in session. What was founded 14 years ago and has now become the back to school bash helps those children who would otherwise "be forgotten and fall through the cracks."
THE ISSUE WE FACE
Many of our neighbors find it difficult to provide the basics needs that their families have such as clothing, transportation, meals, or a roof over their heads. For many families living paycheck-to-paycheck, becoming sick or losing a job can mean eviction or even foreclosure. Children are most often the unseen victims – particularly in the inner cities, outlying regions of Central Florida, which have high housing rates and some of the worst displacement rates in the country, ranking near the bottom (43rd out of the 50 states) in child homelessness. We serve areas where children play in the streets of the highest crime areas where pizza restaurants won't dare to deliver.
Each year we take action to positively impact 10,000 of these children
25,000 + attendees
9,300-10,000 Children Served
10,000 Backpacks
600 + Dental Screenings and Fluoride Treatments
500 + Vision screenings
2,000 + Health Screenings
400 + Volunteers
70,000 + School Supplies
400 + Haircuts
For over a decade, Hope Now Foundations back to school cause has served Central Florida students and their families by providing school supplies, backpacks, haircuts, vision screenings, dental screenings, health screenings, nutrition, and resource advocates. The Back 2 School Bash and Operation Education are the initiatives Hope Now uses to provide these supplies and services.
The Hope Now Foundations back to school effort is a 100% volunteer organization, there is no paid staff. The first Back 2 School Bash took place in an orange county elementary school in 1995. At that time it was not the Back 2 School Bash it was simply a group of "Do Gooders" coming together to help some kids that needed a hand up. At the initial event, the volunteer group was able to acquire approximately 50 backpacks with supplies and constructed a makeshift mobile immunization area. The response and attendance were so overwhelming, that the volunteer group decided to continue organizing the event. The volunteer group created what is known today as the non-profit Hope Now International, a 501c3 certified organization. Although the Back 2 School Bash has grown exponentially, the purpose remains the same; to help and care for those who cannot help themselves.
Since the beginning, the Hope Now Foundation has been a volunteer-run organization. The success of this and other initiatives is a product of committed volunteers and stellar corporate sponsors and people. Supporters and Partners such as Sam's Club, Florida Hospital, WFTV 9 Family Connection, Healthfair, Reed Nissan, Greater Orlando Dental Society, Love Orlando, Starbucks, Herzing University, Community Health Centers, Paul Mitchell, Blue Media, Rey Ortiz, Kevin Behan, Full Sail and many others have helped Hope Now make a lasting difference in the lives of the tens of thousands that we serve.
We are always looking for volunteers who are committed and passionate about serving others. If you are interested in volunteering or becoming a sponsor, please contact us.
"You can easily judge the character of a man by how he treats those who can do nothing for him."

—Malcolm S. Forbes